Tourist's guide to enjoying the Saints Constantine and Helena resort with a rented car
Rent a car in St. Constantine from the car rental company in Bulgaria – Sky
Among all European and Mediterranean countries, Bulgaria is rightfully considered the richest in geothermal and mineralized springs that have a water temperature of about 38-46° C. The mineral springs scattered throughout the country provide water of varied chemical compositions and medicinal properties. Some experts point out that in Bulgaria you can find mineral springs with almost all currently known medicinal properties. It is not surprising this country occupies a leading position in the world in terms of the opportunities for balneological treatment and health improvement. The corresponding centers are situated in Bulgaria next to the natural thermal treasures. There are so many mineral springs in the area that some of them just flow right into the sea.
For fans of sports and outdoor activities, the resort offers numerous sports grounds, horse riding, mini-golf, archery, bicycles. The convenient coves among rocky cliffs are a paradise for diving enthusiasts and fishermen. Aquatic sports are represented by yachts, boats and paddle boats, surfing, water skiing, and the small cozy sandy bays.
Shops, bars, and restaurants welcome guests. In the evening, vacationers can visit the casino and nightclub in Grand Hotel Varna, as well as a variety of discos scattered throughout the resort.
The resort of St. Constantine attracts vacationers with its wonderful microclimate and the long coastline with golden sands, which turns resting on the shore and sea bathing into a wonderful, unforgettable and carefree experience.
A major historical and architectural treasure of this magnificent city is the chapel. It previously belonged to the monastery that gave the name to this resort.
Vacationers at the resort can enjoy a comfortable stay in 4* or 5* hotels; there are also budget-friendly hotels with 2-3 stars. Very popular holiday rental options are cottages with kitchens and verandas. The full course of treatment takes 12-21 days. You can undergo such a course in the balneological clinics at Mistral, Azalia, and Grand Hotel Varna. Here, highly qualified medical professionals help patients choose the optimal cosmetic or treatment program, taking into account their health status. The country's only hemodialysis center also operates at the resort of St. Constantine.
Grand Hotel Varna 5* houses the resort's largest balneological center. Here you can undergo both one-time procedures and complex treatments aimed at restoring health and beauty.
As one of the most famous five-star hotels in Bulgaria, Grand Hotel Varna 5* is popular due to its convenient location and impeccable service. The hotel is situated in the center of the St. Constantine resort complex, at a distance of only 100 meters from the sea and 5 kilometers from the city of Varna.
The eleven-story building of the hotel offers 36 comfortable luxury suites, as well as 296 cozy and spacious standard rooms. The hotel has a balneological center, indoor and outdoor pools with mineral water, a casino, a beauty salon, 5 restaurants, a coffee and pastry cafe, a lobby bar, a solarium, tennis courts, a massage room, conference rooms, and much more.
Grand Hotel Varna is one of the most sophisticated and stylish hotels in the country; it welcomes guests throughout the year. The hotel's standard rooms have a telephone, a minibar, air conditioning, a TV, a balcony, dial-up Internet, a bathroom with a hairdryer. Luxury suites have two separate rooms, a mini-bar, two balconies, a telephone, and a TV.
Grand Hotel Varna 5* is located not far from a thermal natural spring. The balneological center of this hotel offers various programs aimed at the prevention and treatment of many diseases.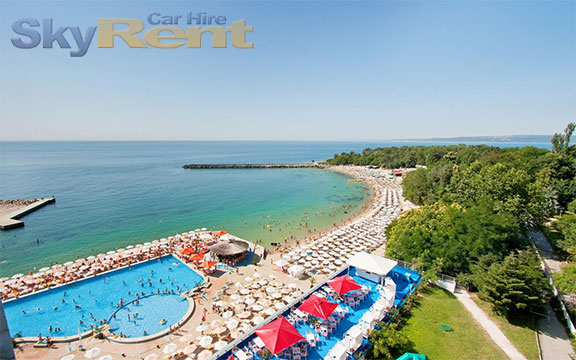 General information about Saint Constantine and Helena
The hotel's conference room can accommodate up to 260 people and is an excellent venue for various business meetings, congresses, conferences, and symposia. Worth noting, the territory of the hotel includes a modern business center fitted with the latest equipment, and it's suitable for seminars. For guests with small children, Grand Hotel Varna 5* has a kindergarten.
In the northern part of the famous Bulgarian resort of St. Constantine, opposite Azalia Hotel, there is a wonderful four-star hotel called Aqua Azur 4*. It's is an eight-story building constructed in 2004. The hotel has 169 comfortable rooms, including 6 suites with a special level of comfort.
Aqua Azur is situated just 150 meters away from the beach, not far from the center of the resort, which allows vacationers to fully enjoy the splendor of the Black Sea coast. The hotel has two swimming pools (indoor and outdoor), which allow guests to swim in any weather, without losing a second of their precious vacation time. Noteworthy, towels and sun loungers by the pool are free, while umbrellas and towels on the beach are to be paid for. Of course, there is also a shallow pool for kids, where your child can enjoy swimming and play in the water.
The hotel's comfort level fully complies with the 4-star standard: there is a wellness center, a sauna, a massage parlor, an Internet club, and a playground for children. Importantly, Aqua Azur also offers the services of a doctor, which creates an additional guarantee of a trouble-free, comfortable stay. There is a safe at the front desk and a safe in each room, which creates a feeling of peace and security. The hotel's adjacent territory is watchfully guarded against strangers.
Thanks to the cozy and comfortable rooms with a balcony or terrace, a TV, a telephone and air conditioning, guests will enjoy spending some of their valuable time at the hotel without worrying about everyday problems. The excellent service and attentive staff combined with the manicured beauty of the resort will undoubtedly make every visitor want to come back next summer. Staying at Aqua Azur is a guarantee of a perfect vacation!
The Mistral 4* hotel has 185 rooms of the Suite, Double and Simple categories. All rooms are very comfortable and spacious, with modern new furniture, bathrooms and showers, WC, air conditioning systems, as well as terraces or balconies with beautiful views of the sea or the park. Every room has a TV set, a telephone with international communication, a hairdryer, a minibar, Internet, and radio. The hotel has 4 elevators, ramps for baby carriages and wheelchairs. On the ground floor of the hotel, there are rooms for disabled people.
The hotel offers a large restaurant with a summer garden terrace, a nightclub bar, and a lobby bar with a wide selection of Bulgarian wines. Buffet breakfast is included in the room rate. Mistral also operates by the All-Inclusive system.
There is a safe and a currency exchange option at the reception desk. The hotel offers parking, sauna, massage, shops, and a hairdresser's parlor.
The hotel territory includes a sandy beach that lies only 200 meters away from the main building. The hotel has a playground, an outdoor children's pool (25 meters), and an outdoor adult pool. Sun loungers, umbrellas and sunbeds are free at the pool, while on the beach they are offered at a small fee.
For fans of sports and other leisure activities, there is a table tennis room and a billiard room.
Only 800 meters away from the hotel, guests can find the nightclubs and discos of the St. Constantine resort.
The cozy modern hotel Ritsa 4* was built in 2001. Its territory is a harmonious architectural complex consisting of the hotel building, courtyard, lawn with swimming pools, park area, and wellness center.
The hotel has spacious double rooms with a balcony and two-room suites with two balconies. The cozy rooms are fitted with new functional furniture, satellite TV, air conditioning, minibars, and telephones. The en suite bathrooms have a bathtub, hairdryer, bidet, and bathroom amenities. There is an option for installing a baby crib in double rooms. Room service is available around the clock. The hotel building has climate control systems and an elevator. There are a parking area and a garage in the adjacent territory.
The hotel's restaurant is found on the ground floor and offers a varied menu of Bulgarian and international cuisine, as well as a buffet. You can order food and drinks from the restaurant to your room at any time of the day or night. The hotel has 3 cozy bars. The restaurant houses a bar called Ritsa; there is a billiards bar on the ground floor; the sky bar offers a breathtaking panoramic view of the resort.
If you want to travel to the places listed above with the greatest comfort possible, it is necessary to find the best solution for the transport question. You can use the most common option and travel by bus. However, this method isn't particularly convenient for a tourist, as you're dependent on the timetables and routes of busses. Besides, public transport is often overcrowded, which will lower your travel comfort significantly. Another option is to order a taxi, but it has pitfalls, too. Prices for private cabs are quite high; besides, many dishonest drivers often deliberately inflate them, hoping to profit off careless customers. However, there is a reliable solution: you can rent a car in St. Constantine Varna, Bulgaria. And the easiest, fastest, and most advantageous way to acquire a car for rent is to resort to the company Sky Rent A Car in St. Constantine Varna, Bulgaria. The main advantage of rental cars is that you are free to map your own route. The sum you pay for the rental car is set and stays the same regardless of the distance traveled. With the help of Sky Rent A Car in St. Constantine Varna, Bulgaria, you visit all the sights and other interesting places, exploring each of them to your heart's content and embracing the atmosphere of authenticity. With a Sky rental car Varna, Bulgaria, you won't have to rush to the next bus or overpay for a taxi. Just order a car for rent from our company, and the transport question will be solved once and for good.
Renting a car from Sky Rent A Car in Bulgaria, Varna is extremely simple and takes little time. Just contact our managers by phone or e-mail, name the rental car you have chosen, specify the time and place of your arrival in the town, book and rent the car of your choice. Thus, you don't even need to visit our office in person to rent a car in St. Constantine Varna, Bulgaria, which is highly convenient. Our representative will meet you at the exact appointed time. After signing the papers, you can set off on an unforgettable journey in a rented car to the sunny resorts of Bulgaria. As a pleasant bonus, all cars for rent from Sky are provided without any mileage limitations, meaning you won't have to count the kilometers traveled.
With more than 10 years of successful operation in the Bulgarian market of car rental services, we have achieved the position of the unconditional leader both in St. Constantine and throughout Bulgaria. This is confirmed by the numerous positive St. Constantine car rental Varna, Bulgaria reviews submitted by our satisfied customers. We invite you to take advantage of our fast, high-quality, and affordable car rental services in St. Constantine. The branch offices of our car rental company are found in all major cities of Bulgaria. And even if your destination doesn't have an office of Sky Rent A Car, you can always order a rental car transfer to any location within the country.
Cheap car rentals in St. Constantine
Prioritizing the safety of customers, Sky Rent A Car in St. Constantine Varna, Bulgaria offers only rental vehicles in a fully technically sound condition, which excludes the possibility of unforeseen predicaments on the road. The company's fleet of rental vehicles consists of modern cars with advanced active and passive safety systems, designed to protect your life and health in the event of an accident.
The car rental company Sky Rent A Car in Saint Constantine also offers various additional services and options, such as snow chains, a GPS navigator, a roof rack, trailers for rent, a personal driver, and much more. Thus, we do not just our customers a rental car in Bulgaria St. Constantine; we provide the full range of related services for your convenience.
The Personal Driver service from Sky Rent A Car in St. Constantine Varna, Bulgariaallows you to fully relax and immerse yourself in the atmosphere of sunshine, merriment, smiles, and uplifted spirits during your vacation or business trip. The professional drivers of Sky Rent A Car in Varna, Bulgaria will deliver you to any destination in your personal vehicle or a Sky rental car Varna, Bulgaria.
Many people have already tried our car rental services and remained satisfied. We invite you to take advantage of the unique opportunity to rent your dream car. In the vehicle fleet of our company, you'll find cars for rent in St. Constantine for every taste, budget, and purpose. Rest assured we'll help you find the rental car you need, and after the car rental period is over, you'll want to use our services again. Rental cars in St. Constantine are a job for the professionals of Sky Rent A Car Bulgaria Varna!